NEWARK -- What's a pair of lovebirds to do with just hours to get married and news the minister is busy getting her tire changed? Why, get married at the car dealership, of course. Which is exactly what Tracy Freeman, of California, and Kenneth Leonard, of Florida, did Friday when Leonard pulled his semitrailer into the lot of Mathews Ford in Newark, where Dee Krier happened to be having her Ford Explorer serviced. "They wanted to get married, and I was having my tires put on," said Krier, a traveling licensed minister who runs Asbury Chapel in Hopewell. Krier asked if they could meet at the chapel around 2 or 2:30 p.m. but received a call back from Freeman asking if they could meet her at Mathews instead. There was something else, too: "I asked, 'What are you driving?'" Krier recalled. "She said, 'A big rig.'" Krier got the OK from the staff at Mathews, who prepared in the next 30 minutes for what, as far as anyone can tell, would be the first wedding to take place in the Mathews Ford showroom. The bride wore jeans and a sweater; the groom wore jeans and a T-shirt. Krier admits she hadn't even styled her hair that morning. It didn't matter: "It was absolutely wonderful," Freeman said from the road Friday after the couple had departed in the semitrailer for Kentucky. Leonard is a truck driver with WTI Transport, based in Tuscaloosa, Ala. He met his future wife at his mother's 80th birthday party in Los Angeles, where Tracy, a salon owner, was decorating the hall for the party. Freeman had been traveling with Leonard the past couple weeks, she said. They became engaged in November and hoped to get married soon, but because of Leonard's job they never were in the same state long enough to fulfill the three-day waiting period many states -- excluding Ohio -- require for getting a marriage license, Leonard said.
When they stopped Friday at the Licking County Courthouse and were told the judge wasn't available, they were referred to Krier -- and thus their big day unfolded. The couple parked the big rig at Mathews around 12:30 p.m., and the wedding commenced with Krier -- also in jeans -- performing the ceremony not in front of an altar but a 2011 Ford Fiesta SES Hatchback. Color: Yellow Blaze. The wedding ranks second on Krier's list of "most original," she said, second only to one performed at a Dublin medical center the day after the bride's baby was born. "This one, it was just beautiful," she said. A quick-thinking Mathews employee played "Wedding March" on a laptop, Krier said, and Freeman was given the privilege of ringing the bell at the dealership reserved for people who have just bought a new car. The whole event didn't take long, said Mathews sales manager Eric Hutchins, but it certainly was memorable. "Everybody just pretty much stopped what they were doing for the five or so minutes that it took," he said. As for the bride and groom, they'll be headed to Kentucky to pick up a load of freight, then off to Colorado for a brief honeymoon. They're building a ranch in Florida they'll eventually call home, Freeman said. The new bride, who will be taking her husband's last name, admitted the wedding wasn't exactly the one of her childhood dreams. But that was OK, she said. After all: "Our favorite car," she said, "is a Ford."
I just wanted to share this with you. It was so special. We don't hear enough good things about our young people. How special they are.... How important their lives are.

Nov. 19th 2006 at 4:30, I officiated a wedding for a fellow and a gal. She has a 2 yr. old daughter.

There were about 100 people there with 4 brides maids, 4 grooms men, ring bearer, 2 flower girls, dad brought the bride up the isle. Bride in beautiful dress and groom in white tails.....

After the bride and groom exchanged their vows.
The most touching thing I have seen in a long time happened...

The groom got down on his knees; called his soon to be step daughter up to the alter, and vowed to her that he would love and care for her as if she were his own all the days of her life. He broke into tears and I could feel his love for the little person.

The little girl just looked at him with big brown eyes and smiled. She squeezed his hand as she leaned toward him and then turned and skipped back to her seat by her grandmother. Not a dry eye in the crowd....

Next week he is off to Iraq...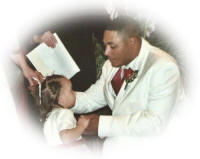 "I will love you and. . .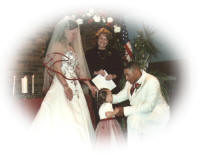 care for you all the days of your life!

CLICK ON EACH IMAGE
TO SEE A LARGER VIEW